Praggnanandhaa Secures Silver Medal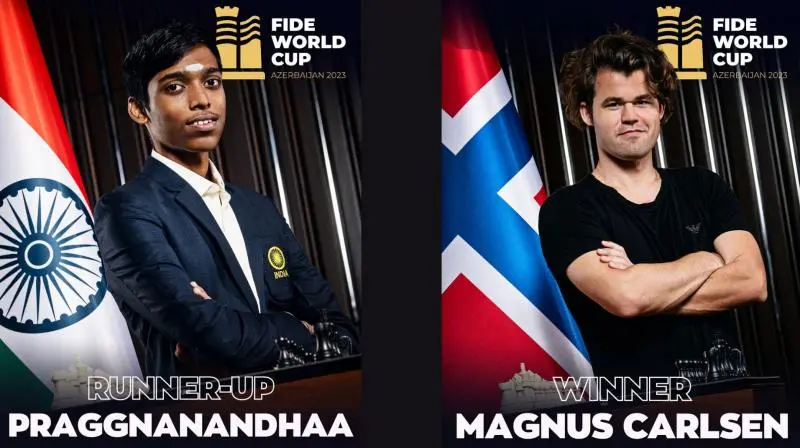 Praggnanandhaa Comes Close to Upsetting Carlsen in Chess World Cup Final
Praggnanandhaa heroic performance in the Chess World Cup final has cemented his place among the top chess stars in the world. The 18-year-old Indian grandmaster captured the imagination of millions of fans with his brilliant play. He came within touching distance of winning the title.
Carlsen Wins First Chess World Cup Title, Praggnanandhaa Impresses
Praggnanandhaa drew the first two classical games of the final against the world champion, Magnus Carlsen. However, Carlsen was the stronger player in the tie-breaks, and he eventually won the match 3-1.
Despite the loss, Praggnanandhaa can be proud of his achievement. He is the youngest player to reach the final of the Chess World Cup since 2004, and he has shown that he is a force to be reckoned with.
Praggnanandhaa's performance is a major boost for Indian chess. He is the latest in a long line of talented Indian grandmasters, and he has the potential to become one of the best players in the world.
Praggnanandhaa's Heroic Performance in Chess World Cup Final Cements His Place Among Top Stars
Despite losing the final, Praggnanandhaa can be proud of his achievement. He beat higher-ranked opponents. These includes world number 2 Hikaru Nakamura and number 3 Fabiano Caruana, to become the second Indian after Viswanathan Anand to reach the Chess World Cup final. He also secured a ticket to the FIDE Candidates tournament by winning the silver medal.
After the Chess World Cup final, Praggnanandhaa told a news channel that he was looking forward to eating South Indian food after the tournament. He said that he prefers Indian food to the food that is available in Baku, Azerbaijan. He also said that he is inspired by the success of other young Indian chess players. These include D Gukesh and Arjun Erigaisi. He also said that he is determined to break into the top 10 in the world rankings.
Praggnanandhaa's dream run in the FIDE World Cup came to an end at the hands of world number 1 Magnus Carlsen. Carlsen won the tie-break 1.5-0.5 after the classical games were drawn. The second 25+10 tie-break game ended in a draw in 22 moves, as Carlsen played it safe after winning the first game. This was Carlsen's first World Cup title, and it adds to his five World Championship crowns.
Carlsen prevailed over his 18-year-old Indian opponent in the first tie-break game, winning it in 45 moves. He overcame the difficulties Praggnanandhaa presented him with through his aggressive play to turn the tables and take the lead