NAMO GOVERNMENT DEFEATS THE NO CONFIDENCE
PARLIAMENT SHOWS CONFIDENCE IN NaMo GOVERNMENT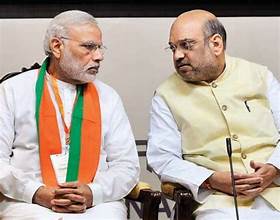 Having the large majority Modi's Hindu led BJP government having the vast majority of 543 member of parliament in the lower house defeated the motion of no confidence in the final day of the three-day long deliberation of the government's role in Manipur.
INSIDE THE PARLIAMENT: OPPOSITION NOT READY TO LISTEN
The Opposition led by Rahul Gandhi walked out of the chamber even after the day of the GOI answering the concerns and stating while walking away that "INDIA IS BURNING".
In his speech, Modi was criticizing the opposition parties for their lack of trust in democracy. He accused them of being quick to make accusations and spread lies, but unwilling to listen to the rebuttals. He said that this was their game and that the country could not expect much from them.
KILLING: RIGHT WORD TO BE USED FOR BHAARAT MATA?
Rahul Gandhi's comments about Modi "killing Mother India" are a strong accusation that reflects the deep divisions that exist in Indian politics. Gandhi is accusing Modi of being responsible for the country's problems, both economic and social. He is also suggesting that Modi is not fit to be Prime Minister.
Modi's supporters have accused Gandhi of being divisive and of trying to stir up trouble. They say that Gandhi is not interested in solving the country's problems, but only in scoring political points.