Prime Minister Modi Addresses Independence Day and Visions for India's Future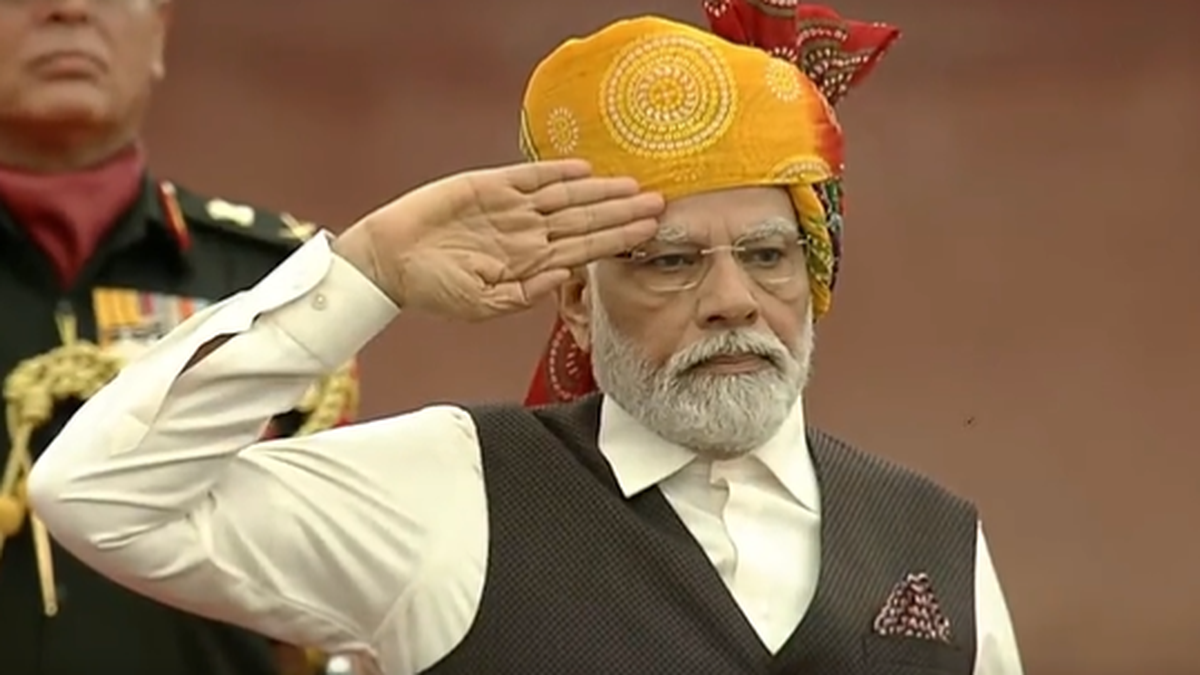 77th Independence Day – PM Modi
Prime Minister Narendra Modi, in his annual Independence Day speech, addressed various pertinent issues, emphasizing the cycle of violence and incidents of atrocities against women in Manipur. He expressed India's solidarity with the people of the state and conveyed optimism about the restoration of peace. Highlighting his government's efforts, he stated, "The process of reestablishing peace is underway, with both the Central and State Governments dedicated to this goal."
This year's address marked PM Modi's 10th consecutive Independence Day speech, also serving as his final one before the 2024 Lok Sabha elections. The speech was anticipated for its role in presenting the government's progress report and unveiling flagship programs, a tradition observed in previous years.
PM Modi Live on Independence Day
#WATCH | PM Narendra Modi says, "…It is certain that India's capability and possibilities are going to cross new heights of trust. These new heights of trust will go ahead with the new capabilities. Today, India has received the opportunity to host G20 Summit. In the past year,… pic.twitter.com/weglqBflVD

— ANI (@ANI) August 15, 2023
Beyond the expected, there is a possibility that the Prime Minister would chart the nation's journey under his leadership since 2014 across diverse sectors, while outlining his future vision, mirroring his past practices.
While PM Modi generally refrains from direct political attacks in these addresses, his emphasis often revolves around the governance improvements brought about by his administration, following a period characterized by concerns of "corruption" and policy inaction.
His speeches have consistently underscored India's ascending global stature, the renewed impetus towards development, and the growing self-assurance of its populace. These themes are interwoven with the nation's resolute commitment to a robust security apparatus and foreign policy strategies guided by national interests.
In a tweet on the platform formerly known as Twitter, Prime Minister Modi extended his Independence Day wishes, paying tribute to the nation's freedom fighters while renewing the pledge to fulfill their visionary aspirations. The message concluded with the resounding patriotic chant, "Jai Hind!"
आप सभी को स्वतंत्रता दिवस की अनेकानेक शुभकामनाएं। आइए, इस ऐतिहासिक अवसर पर अमृतकाल में विकसित भारत के संकल्प को और सशक्त बनाएं। जय हिंद!

Best wishes on Independence Day. We pay homage to our great freedom fighters and reaffirm our commitment to fulfilling their vision. Jai Hind!

— Narendra Modi (@narendramodi) August 15, 2023
Rahul Gandhi on Independence Day
On the occasion of the 77th Independence Day, Rahul Gandhi, a leader of the Congress party, extended his heartfelt wishes to the nation. In a social media post, he hailed "Bharat Mata" (Mother India) as the collective voice of every Indian, celebrating the essence of the occasion.
Furthermore, Rahul Gandhi shared insights from his "Bharat Jodo Yatra" (Unite India Journey), a 145-day expedition that spanned from the coastal edge to the snowy reaches of Kashmir.
US greetings to India
Extending warm greetings to India, United States Secretary of State Antony Blinken emphasized the robust bond between the two nations on the occasion of India's 77th Independence Day. He conveyed their shared dedication to shaping a world characterized by openness, prosperity, security, stability, and resilience.
Antony Blinken highlighted the evolution of the India-US relationship, noting its deepening and expanding nature. He emphasized the United States' solidarity with India in confronting pressing global challenges, underscoring their commitment to achieving peace and prosperity for their respective populations.