RAMESHBABU PRAGGNANANDHAA TEEN CHESS PRODIGY TO MAKE INDIA PROUD BY TAKING ON MAGNUS CARLSEN
Rameshbabu Praggnanandhaa To Make India Proud
Indian teen chess prodigy Rameshbabu Praggnanandhaa will face five-time world champion Magnus Carlsen in the Chess World Cup final on Tuesday.
The 18-year-old from Chennai defeated Fabiano Caruana in a tense match to secure his place in the final.
Praggnanandhaa is the youngest player to defeat Carlsen since he became world champion in 2013. He is also the first Indian to reach the final of the Chess World Cup since Viswanathan Anand in 2013.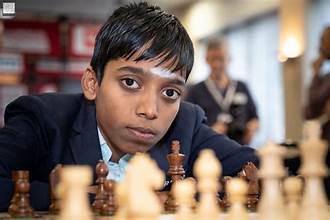 The World Cup, which is held every two years, is a separate competition from the world championships, which are held yearly between the reigning champion and a contender. In the World Cup, a series of head-to-head games whittle down the opponents until a winner is crowned.
Praggnanandhaa is a rising star in the chess world. He became a grandmaster at the age of 12, the third-youngest person in history to do so. The teen champion has won several international tournaments, including the 2019 World Youth Chess Championship.
He is a talented and fearless player who is not afraid to take on the world's best. He will be a tough opponent for Carlsen in the final.
The match will start at 3:30 PM IST on Tuesday. The match will be played over 14 games, and the winner will be the first player to win 7 games.
Baku, Azerbaijan will host the match. Several Indian television channels and online streaming platforms will broadcast it live.
Praggnanandhaa is a national hero in India. Young chess players and the country see him as a role model and a symbol of hope. His success in the Chess World Cup final would be a major achievement for India and would inspire millions of people.