Tragic Accident on Samruddhi Highway in Maharashtra: 17 Workers Killed, Rescue Efforts Underway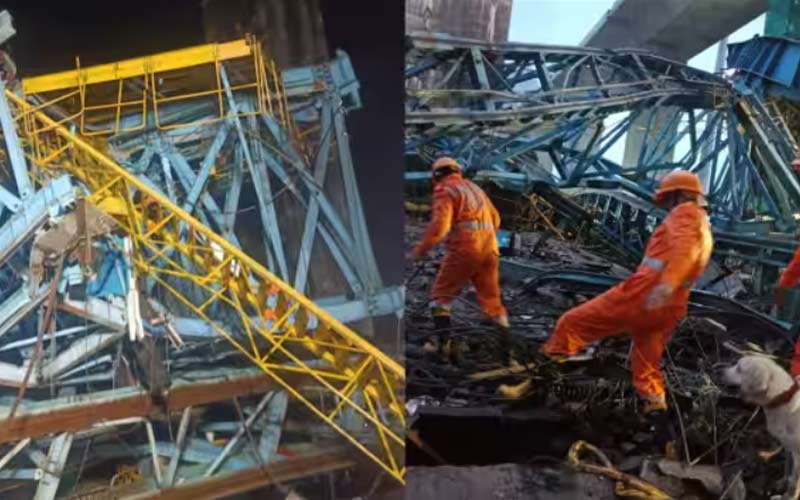 Tragic Accident on Samruddhi Highway in Maharashtra: 17 Workers Killed, Rescue Efforts Underway
In a heart-wrenching incident, a tragic accident occurred on the Samruddhi Expressway in Maharashtra's Thane district. Seventeen workers lost their lives, and three others were injured when a crane collapsed during the construction of a bridge on the highway. The accident took place near Sarlambe village under the Shahapur tehsil, about 80 km from Mumbai. Rescue teams, including the National Disaster Response Force (NDRF), rushed to the site for immediate assistance.
PM Tweet
Pained by the tragic mishap in Shahapur, Maharashtra. My deepest condolences to the families of those who lost their lives. Our thoughts and prayers are with those who are injured. NDRF and local administration are working at the site of the mishap and all possible measures are…

— PMO India (@PMOIndia) August 1, 2023
Details of the Accident
The accident occurred at approximately 12 am when a specialized mobile gantry crane, used in bridge construction and installation of precast box girders for highway projects, collapsed on a bridge slab. This unfortunate event has sent shockwaves throughout the region, drawing attention to the importance of safety measures in construction projects.
Government Response
Maharashtra Deputy Chief Minister Devendra Fadnavis expressed deep sorrow over the loss of lives and ordered a thorough inquiry into the Shahapur accident. The authorities are working tirelessly to aid the victims and ensure their families receive necessary support during this challenging time.
Rescue Operations
In response to the disaster, teams from the police, fire brigade, and the NDRF immediately launched rescue operations. The injured workers were swiftly transported to a nearby hospital for medical treatment. Rescue efforts are ongoing as there are concerns that more people might still be trapped under the debris.
Messages of Support
The tragic incident has garnered sympathy from across the country. The Prime Minister's Office (PMO) expressed their condolences, offering thoughts and prayers to the families of the victims and wishing a speedy recovery for the injured workers.
Safety Measures and Preventive Actions
Following this devastating accident, there is an urgent need to review and reinforce safety protocols in construction projects across the region. Stringent safety measures, regular inspections, and adherence to guidelines can significantly reduce the risk of such mishaps in the future.
The crane collapse on the Samruddhi Highway has resulted in a devastating loss of lives and raised concerns about safety standards in construction projects. Our hearts go out to the families of the deceased, and we pray for the swift recovery of the injured workers. Authorities must conduct a comprehensive investigation and implement necessary safety measures to prevent such tragedies from recurring. Let us collectively work towards ensuring the safety and well-being of all workers involved in infrastructure development projects.