Trending women's ethnic wear 2023
Trending Women's Ethnic Wear 2023: Pastels, Monochrome, Organza, Indo-Western Fusion, and More!
Trending women's ethnic wear is a timeless classic that never goes out of style. In 2023, we will see a number of trends that fuse traditional elements with modern designs. Here are some of the most trending women's ethnic wear styles to look out for this year:
Pastel:
Pastels are a popular choice for ethnic wear in 2023. These soft, muted colors are perfect for creating a sophisticated and elegant look. Look for pastel lehengas, sarees, kurtas, and tops in shades of lavender, mint, baby pink, and sky blue. Monochromatic lehenga:
Monochrome looks, that is a single tone for all components of the lehenga, are making a comeback. But this year will probably see a surge in monochrome lehengas in pastel tones.
Organza lehenga:
Organza lehengas are a luxurious and elegant choice for special occasions. These lehengas are made from lightweight organza fabric, which gives them a flowing and ethereal look. Look for organza lehengas in pastel colors or with intricate embroidery.
Multi-color juxtaposition lehenga:
The juxtaposition of different patterns and colors will play an important role in wedding couture. Various different patterns, textures and colors will be brought together by weaving techniques or sewing ways. So, multicolor designs will rule the lehengas this year. Checkout more of Mehndi outfits.
Indo-western fusion wear:
Indo-western fusion wear is a popular trend that combines traditional Indian elements with Western styles. These outfits are perfect for women who want to look stylish and sophisticated without sacrificing their cultural identity. Look for Indo-western fusion kurtas, dresses, and pants in a variety of colors and patterns.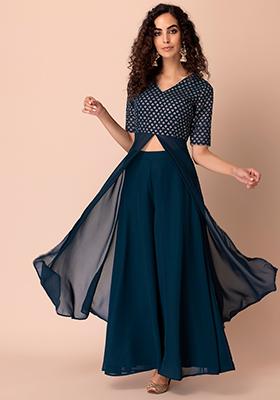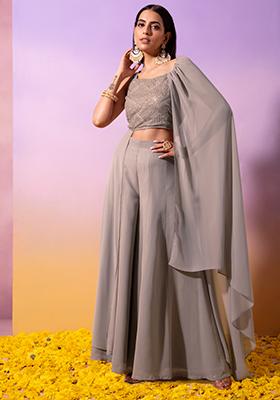 These are just a few of the trending women's ethnic wear styles for 2023. With so many great options to choose from, you're sure to find the perfect outfit to flatter your figure and style.
Here are some additional tips for choosing trending ethnic wear in 2023:
Consider the occasion. If you're dressing for a formal event, you'll want to choose a more elegant style. For a casual event, you can opt for a more relaxed look.
Think about your body type. Some styles of ethnic wear are more flattering for certain body types than others. If you're not sure what will look best on you, ask a salesperson for help.
Don't be afraid to experiment. There are so many great trends to choose from in 2023, so don't be afraid to try something new. You might just find a new favorite style!